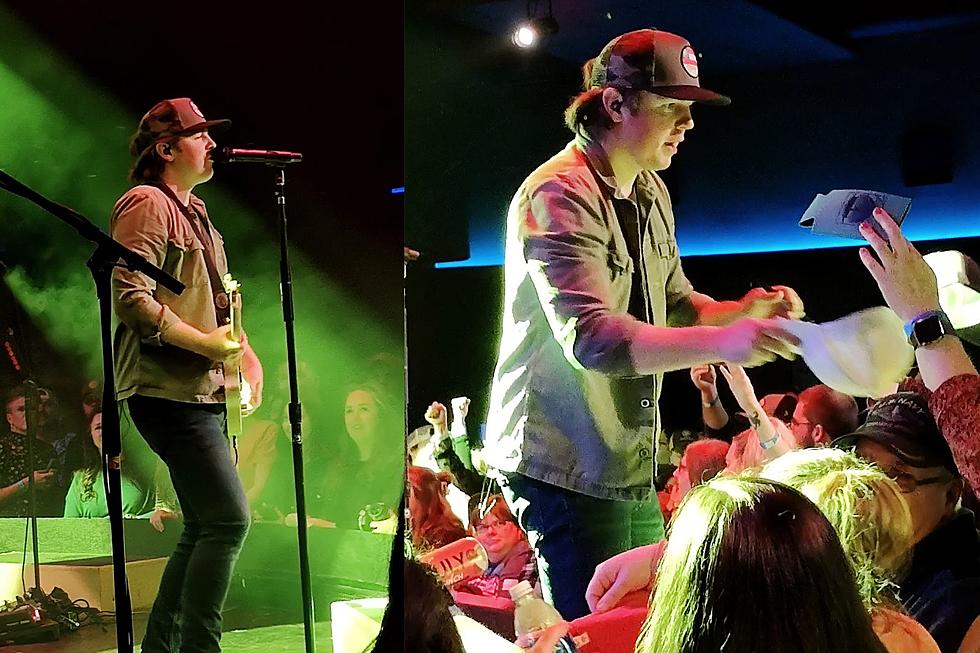 Travis Denning Rocks the Q Casino's Showroom with Incredible Energy
Photo Credits: Steve Pulaski
It was a Saturday evening underscored by another tremendous concert at Q Casino on March 25th, 2023 when country singer Travis Denning took the Q Showroom stage. The 30-year-old Georgia native has been a steadily rising name in the country music stratosphere for several years, and Dubuque, IA got a chance to see him up close.
It was a packed, intimate setting made even better by Q Showroom's terrific acoustics and involved lighting system that illuminated every inch of the stage or set a more understated mood when necessary. Denning took advantage of the setting by punctuating songs with lively crowd banter. During some of his performances, he interacted with his fellow bandmates and broke a sweat getting into their musicianship.
There was no way to hide it: Travis Denning truly loves performing and loves those that come to see him do just that.
Prior to Travis Denning, the duo TAN + JAE served as the opening act. The couple are part of The Beach Bums, a band from Bellevue, IA that has been an area-favorite for years. This was my first time seeing them as well. TAN + JAE are simply terrific. They have a campfire-esque energy to them, and their vocal melodies are strong and eloquent.
Some of the songs they performed: "Brown Eyed Girl," Shania Twain's "Man! I Feel Like a Woman" and "You're Still the One," The Chicks' "Goodbye Earl" (my favorite of their set), "Summer of '69" (my second favorite), and "Should've Been a Cowboy," just to name a few.
Denning took the stage around 8:45pm and opened with "Red Round Here," which is also the opening track of his latest EP, Might as Well Be Me. It's one of my favorites from Denning: exuberant in its energy, humorous, and raucous in every way it should be. He followed that up with some additional cuts from all three of his EPs, including his latest single, "Strawberry Wine and a Cheap Six Pack," released earlier this month.
Denning is probably most famous for his song "After a Few," which also marked his first #1 hit on country radio back in 2019.
His very first single, "David Ashley Parker from Powder Springs," remains my favorite from him. The song is based on "a million true stories," and concerns an under-aged guy who buys the ID of a college senior in order to purchase alcohol. By doing so, he assumes the identity of a person who he perceives as older and cooler. He becomes the life of the party. It's wholly relatable for many.
Denning's encore was "ABBY," a post-breakup acronym for "anybody but you." Both my girlfriend and I figured "David Ashley Parker from Powder Springs" would be the encore. But when the Georgia singer and his band started cranking out "ABBY," we both felt it was a fitting encore. It begs you to sing and chant along.
Concertgoers not only got to see Travis Denning up close, but several walked away with one of his guitar picks, as he chucked several into the audience at random points during the concert. Following his performance of "ABBY," he spent about five minutes signing random pieces of merch and memorabilia from the audience: T-shirts, hats, White Claw cans, and even people's hands emerged with a signature from a young-blood who is just getting started.
Travis Denning's performance clearly signified his love for music and his fans. The passion displayed by the audience was electric. Per usual, the Q Casino staff was professional and helpful. It was great to experience a fun night of music with my girlfriend and some other familiar, friendly faces as well!
Find out more about Travis Denning and listen to his music on his official website. Also, check out other fun and dynamic shows Q Casino has planned for both the Q Showroom and the upcoming 2023 Summer Concert Series on their Back Waters Stage.
A peak inside a Dubuque record store!
A look inside CD's 4 Change, a record store located in Dubuque.