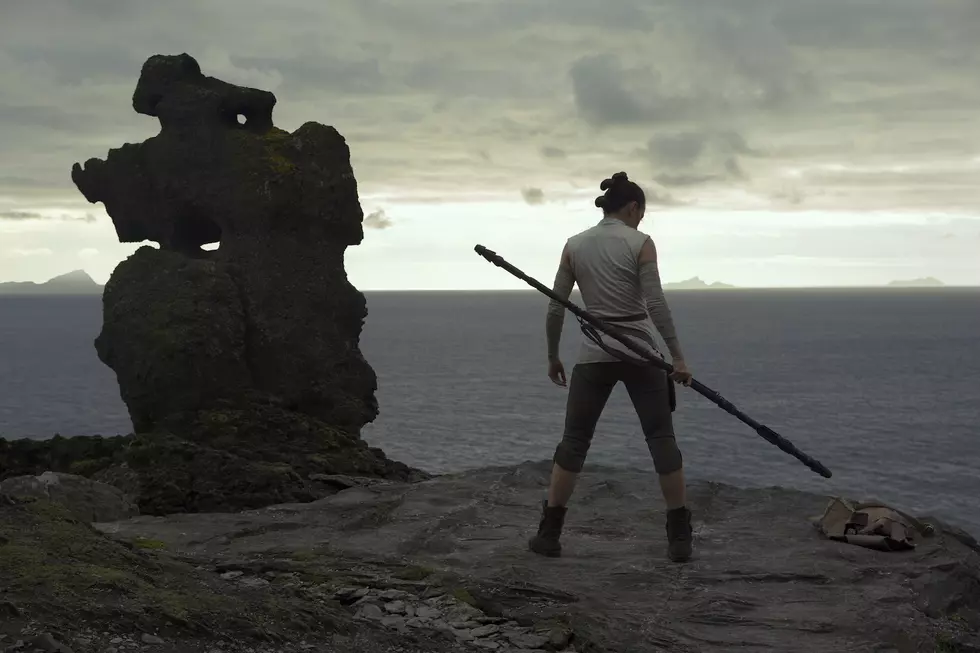 'Star Wars: The Last Jedi' Review Roundup – What the Critics Are Saying
Disney
If ScreenCrush's review of Star Wars: The Last Jedi isn't enough for you, there's plenty more where they came from. Here's a quick roundup of the first wave of reviews of Rian Johnson's impressive new entry in the saga from the galaxy far, far away. And if the tl;dr version is still tl for you here's the short, short version: They liked it. A lot.
If you want more, find excerpts and links below. We'll have plenty more Star Wars coverage all week here on ScreenCrush.
Star Wars: The Last Jedi Reviews:
 The people in Star Wars implore one another to fulfill their destinies. With The Last Jedi, Johnson fulfilled his. Given the opportunity, he made the best Star Wars since The Empire Strikes Back.
Mr. Johnson doesn't have to make the important introductions; for the most part, the principals were in place, as was an overarching mythology that during some arid periods has seemed more sustained by fan faith than anything else. Even so, he has to convince you that these searching, burgeoning heroes and villains fit together emotionally, not simply on a Lucasfilm whiteboard, and that they have the requisite lightness and heaviness, the ineffable spirit and grandeur to reinvigorate a pop-cultural juggernaut. That he's made a good movie in doing so isn't icing; it's the whole cake.
Johnson skillfully balances quite a few characters, all operating at various points of the universe, and he and editor Bob Ducsay ("San Andreas") weave between them without losing the thread.
 if The Force Awakens was a great variation on a theme, then The Last Jedi is another movement altogether in the symphony. There are images in this movie that provoke awe and delight, and creatures that feel lifted out of half-remembered childhood dreams. And though it briefly appears to lose steam in the middle, that's short-lived, with a third act harboring sequences that feel like a maestro conducting a concerto the size of the cosmos.
Writer-director Rian Johnson has certainly made the busiest Star Wars film of them all, but he keeps it from becoming a slog by infusing it with humor, verve, and visual charm.
Days removed from seeing Star Wars: The Last Jedi, I still can't believe it's a real movie. I can't believe what writer-director Rian Johnson did: He took all of our preconceived notions of what a Star Wars movie is and evolved them.
Huge, important things happen to characters secondary and primary. Surprises big and small abound. As is the case with all of the Star Wars films, where there is evil there is heroism, and where there is bravery there is sacrifice — and sometimes where there is love, there is heartbreak.
 The Last Jedi mounts some genuinely startling narrative twists and feints, while charting an onward course for the franchise that has you itching to discover what comes next. That's smart business practice, but it's also exemplary blockbuster filmmaking.
Under the fastidious guidance of writer-director Johnson, "The Last Jedi" turns the commercial restrictions of this behemoth into a Trojan horse for rapid-fire filmmaking trickery and narrative finesse.
It's a lot of movie, in a good way.
Johnson goes a little rogue from past filmmakers by infusing Last Jedi with more modern hilarity and occasional quirkiness than you'd find in your normal Star Wars (though it works better here than in, say, Thor: Ragnarok). There's no denying his obvious Star Wars love, though.
What there is, admittedly, is an anticlimactic narrative muddle in the military story, but this is not much of a flaw considering the tidal wave of energy and emotion that crashes out of the screen in the final five minutes. It's impossible not to be swept away.
Last Jedi is just another Harry Potter-style placeholder picture for lump-in-the-throat moments to come. Or so we hope.
Gallery - More Photos of Star Wars: The Last Jedi: