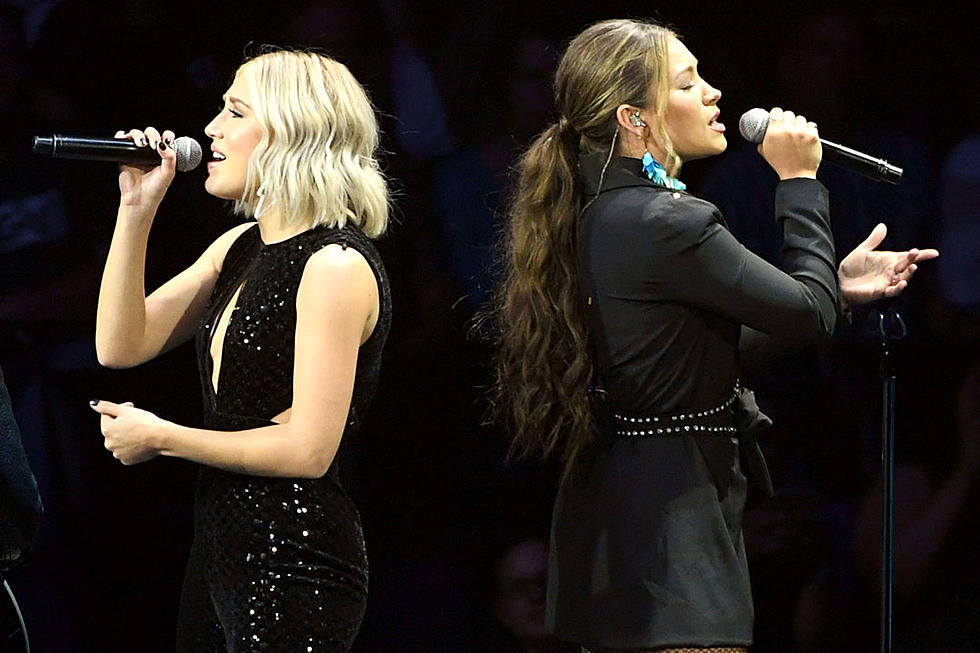 Interview: Maddie & Tae Are Strong, Confident, Vulnerable on 'Everywhere I'm Going' EP
Kevin Winter, Getty Images
Maddie & Tae found strength in being vulnerable on their new EP, Everywhere I'm Goin.'
The project follows the duo's project One Heart to Another from April 2019, and is the second of three EPs Maddie Marlow and Taylor Dye will unveil leading up to their sophomore studio album.
Embedded in the trilogy are three main pillars: love, loss and redemption. They didn't plan for it and didn't recognize these themes until sitting down with Stephanie Wright (Senior Vice President of A&R at their label UMG Nashville), who pointed out the story arc they had built in their collection of songs.
It reflects their real-life journey.
"It's everyone's journey, but we really felt that we've lived that really hard over the past three years. So it's been nice to tell this story and live it at the same time," Dye tells Taste of Country.
"We were so in it in writing that we didn't even realize that we were writing our concept that we were going through at the time" adds Marlow. "One Heart to Another is the bones, these are the guts."
Never ones to shy away from risk, Dye says they've long defined their brand as "real life," dating back to their debut album in 2014 and breakthrough hit "Girl in a Country Song," which challenged the sexism of the bro-country era.
They capitalize on this risk-taking nature in Everywhere I'm Goin.' The journey begins with love on the title track — a simmering ballad that connects a lover to the beauty of the places they've been and are destined to go, while "Trying on Rings" taps into Marlow's real love story with fiancé Jonah Font. It was inspired by the growth the two have endured since their relationship began as 15-year-olds to the day they spontaneously decided to try on engagement rings five years later. Marlow had the song's title as soon as they left the shop, but wasn't planning on turning it into a song, as it felt too personal. But she ultimately decided to put forth the idea during a writing session with co-writers Dye, Laura Veltz and Jimmy Robbins, the team instantly gravitating to the title.
"Look at us / Two Sugar Land kids looking all grown up / Same ones that were too young / To stay in love / But here we are," Marlow sings in the opening lines. "I was really nervous to put my whole entire love story out there," she admits, "But it was fun getting to explore the depth of our relationship and getting really specific."
"Trying on Rings" marks the transition from love to loss with "Aint' There Yet" and "Lay Here With Me," the former finding a heartbroken woman who's not quite over a breakup, while the latter features the duo trading vocals with Dierks Bentley on a bluesy number that tells the story of a couple loving one last time before the relationship's inevitable end. This mix of love and heartbreak leads to redemption's door step on the EP's closer, "Bathroom Floor." The fiery track proves that the best cure for a broken heart is friendship, a few shots and ending the night laughing in the same spot where tears once fell.
"People definitely are getting to see a more mature, different side of us," Dye says of the bold track she refers to as the 2019 version of "Girl in a Country Song."
"There's just something about that song that empowers us and makes us feel strong and confident," adds Marlow.
The common thread between the songs on this EP is vulnerability. After losing a record deal when their original label, Dot Records, shut down, the duo was open with fans about the struggles they faced in its wake (Marlow shared in a video in early 2018 that she had experienced a battle with depression(. But after signing a new deal with Universal Music Group in 2017 and honing their sound and craft with the two EPs and another to follow, they've evolved significantly because of those hardships.
"I think both of us have found our own sense of vulnerability and they look very differently," explains Marlow, whose vulnerability is centered around letting her guard down.
"I love talking about feelings, but when it comes to my own, I get really nervous of rejection or someone's not going to understand what I'm saying. And now, I don't feel like I have to explain my vulnerability anymore and I can just put it out there," she continues. "I think this second record when I look back I'm going to be like 'that's when I finally started opening up.'"
"Hitting rock bottom and knowing that you need to get up, but you can't get there without people, just realizing it's way easier to get back when you have someone reaching down and helping you up," Dye adds of her personal journey to being more vulnerable.
"You have to figure out who's your climbing buddies in your life," Marlow insists, "And T's definitely one of my climbing buddies."
The duo will continue to climb together as they take risks with their new music. "I think the risk was always worth it to be vulnerable," Dye concludes. "I think we'll always be that way."
Everywhere I'm Goin' is available now.
20 Country Songs That Empower Women: