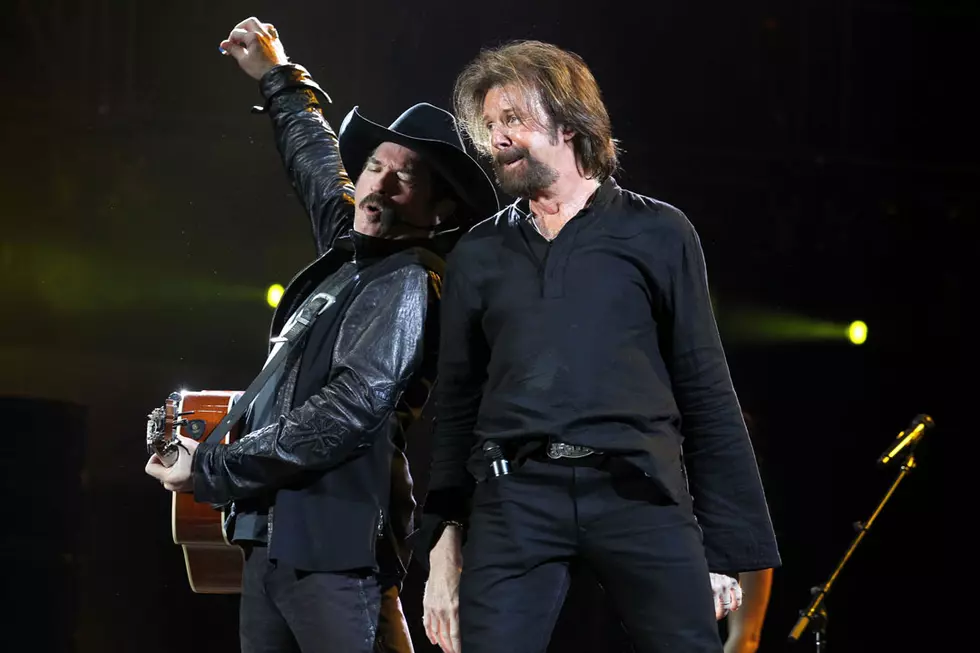 Brooks & Dunn Reveal 'Reboot' Album Collaborations, Track Listing in Full
Christopher Polk, Getty Images
Brooks & Dunn have revealed more details about their upcoming album, Reboot, available on April 5.
The best-selling duo of all time shared the track listing with fans Thursday (Feb. 21). Each of the songs features a superstar collaboration, uniquely changing up the duo's well-loved catalog.
The 12-track collection features Kacey Musgraves, Jon Pardi, Kane Brown, Luke Combs, Cody Johnson, Thomas Rhett, Brett Young, Luke Combs, Lanco, Ashley McBryde, Midland and Brothers Osborne collaborating with the duo on their classic hits.
Musgraves even co-produced the song she sang on, "Neon Moon." Dan Huff co-produced the Musgraves song, as well as producing the rest of the album.
Along with the track listing, Brooks & Dunn also gave fans a sneak preview by releasing the Pardi collab, "My Next Broken Heart." Pardi's contribution brings out more of a honky-tonk and down-home country vibe to the original classic.
"What's really intriguing to me is that we didn't do any production meetings about how we might cut these things," Kix Brooks said in a recent press release. "We kind of just went in, and it morphed in the process."
"Each artist came at it from a different angle," Ronnie Dunn added. "When Jon Pardi walked in, he said 'I'm in, but we're not changing anything,' and we didn't musically, but his vocal speaks for itself."
Brooks & Dunn's Reboot Track Listing:
1. "Brand New Man" (with Luke Combs)
2. "Ain't Nothing 'Bout You" (with Brett Young)
3. "My Next Broken Heart" (with Jon Pardi)
4. "Neon Moon" (with Kacey Musgraves)*
5. "Lost and Found" (with Tyler Booth)
6. "Hard Workin' Man" (with Brothers Osborne)
7. "You're Gonna Miss Me When I'm Gone" (with Ashley McBryde)
8. "My Maria" (with Thomas Rhett)
9. "Red Dirt Road" (with Cody Johnson)
10. "Boot Scootin' Boogie" (with Midland)
11. "Mama Don't Get Dressed Up for Nothing" (with LANCO)
12. "Believe" (with Kane Brown)
Produced by Dann Huff
*Produced by Dann Huff and Kacey Musgraves
Hard Workin' Men: See Brooks & Dunn Through the Years