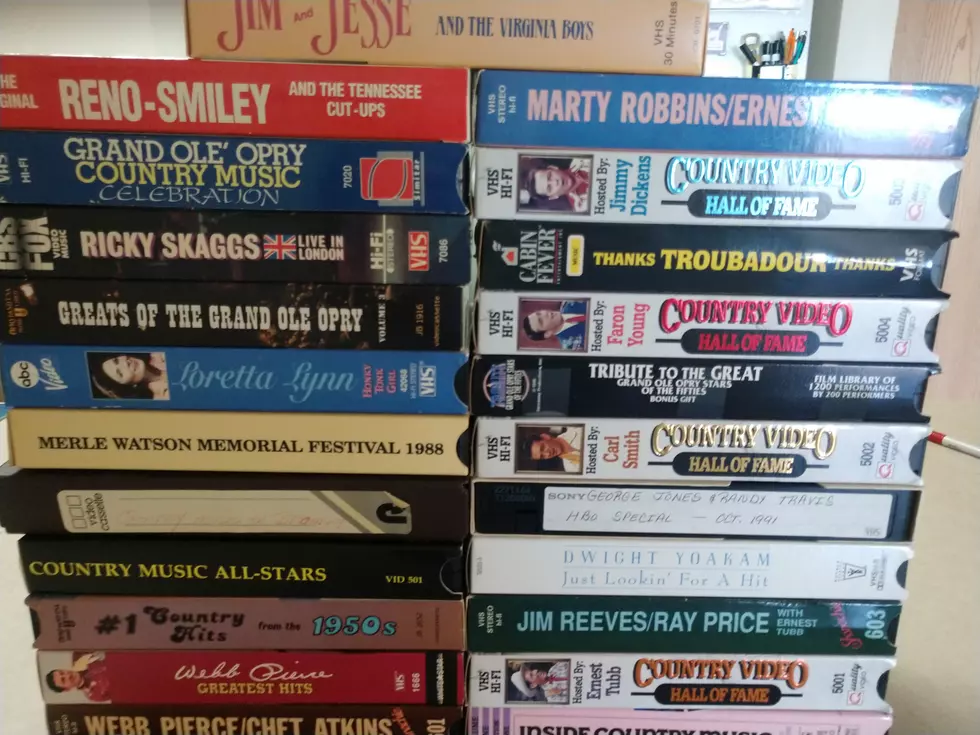 A Glimpse of My Country Music VHS Collection
Photo Credit: Steve Pulaski
VHS tapes are long-gone dead. Some have proven to be quite valuable; even the blank tapes on which one used to record TV shows or movies have skyrocketed in value. That said, I'm grateful to still have not one but two working VHS players and a sizable collection of old tapes. I've long-felt I'll always have a VHS player in my possession.
I went by my grandfather's house a couple of weeks ago. I didn't know he had a surprise for me. He emerged from the den with two enormous bags of country music photo-books, magazines, and VHS tapes. He was instrumental in helping me discover and appreciate the greats: Hank Williams, Waylon Jennings, Merle Haggard, Boxcar Willie, and more.
This collection is a treasure trove to say the least. It's mostly concerts or music video compilations, but so many of these tapes were either limited releases, only available via catalog, or never released on DVD.
My eye immediately gravitated towards the Country Video Hall of Fame series. My grandfather gave me three different volumes: one hosted by Little Jimmy Dickens, one by the great Faron Young, and another by Carl Smith. From what little I've managed to scrounge up online, I've discovered this was a catalog-based monthly video series. They're essentially 30 minute variety shows mixed with music. I watched the one hosted by Faron Young, which made for a rousing afternoon.
Popping in any one of these tapes is an immediate blast from the past. I got the same feeling watching some of these as I do Hee Haw or The Statler Brothers Show. These kinds of variety shows simply don't exist anymore, and in the present, there is no TV show quite like this for country music as a whole. The kitschy holiday specials that air on primetime TV are terribly weak imitations.
I haven't looked up each and every one, admittedly, but some of these tapes, I cannot even find online. I'm starting to believe my grandfather is the only person on earth who owned a VHS tape of the Merle Watson Memorial Festival from 1988. I managed to find a YouTube video of a memorial festival in Watson's honor, but it's from 1992.
So far, my favorite tape has to be Ernest Tubb in Thanks, Troubadour, Thanks. I thought it was going to be a full-length Tubb concert, however, it's actually a documentary, with appearances from Randy Travis, Loretta Lynn, Little Jimmy Dickens, and more. It's an immersing watch. Thankfully, it's on YouTube too!
Hopefully, if you're a classic country music fan, you found a little joy from the contents of these tapes. It's truly wonderful that YouTube serves as an archive for a lot of these things, but watching them on a VHS tape just adds to the experience and aesthetic.
The Best Country Singer From Every State
Some states, like Oklahoma and Texas, are loaded with famous country singers. Others, like Nevada and Maine, are still looking for a real breakthrough artist. See the best and most successful country music artist from all 50 states, starting with
Hank Williams
and Alabama.