Luke Bryan's New Album, 'What Makes You Country', Coming in December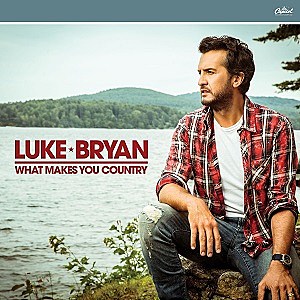 Luke Bryan has officially announced his next album. The country star shared the news via an announcement on Good Morning America on Friday (Oct. 6).
Bryan's new album, What Makes You Country, is due out on Dec. 8; the album includes 15 songs, seven of which Bryan co-wrote. Bryan's new album is the follow-up project to 2015's Kill the Lights, which debuted at No. 1 on the Billboard Top Country Albums chart and took over the all-genre Billboard 200 at its peak. The new record's first single is "Light It Up," co-written by Bryan and Old Dominion's Brad Tursi.
In addition to "Light It Up," Bryan has been sampling some of his new music at VIP meet and greets with fans before recent shows. At those events, Bryan has leaked new music to audiences around the country, including the song "Like You Say You Do" and the title track, "What Makes You Country."
Bryan also tells Taste of Country that his upcoming album will feature a duet with a female artist, but he has yet to announce who that might be or which song it is. Additionally, on his next album, Bryan is including a song album called "Pick It Up," which he says is dedicated to his sons.
"When you start having a family and boys, they certainly influence who you are as a person and as an artist," Bryan tells Taste of Country Nights. "I've got a song on there that talks about my relationship with my boys, giving them some life lessons and stuff. It's a feel-good song."
Luke Bryan, What Makes You Country Track Listing:
1. "What Makes You Country" (Luke Bryan, Dallas Davidson, Ashley Gorley)
2. "Out of Nowhere" (Luke Bryan, Dallas Davidson, Ashley Gorley)
3. "Light It Up" (Luke Bryan, Brad Tursi)
4. "Most People are Good" (David Frasier, Ed Hill, Josh Kear)
5. "Sunrise, Sunburn, Sunset" (Zach Crowell, Ryan Hurd, Chase McGill)
6. "Bad Lovers" (Justin Wilson, Dallas Davidson, Kyle Fishman)
7. "Drinking Again" (David Lee Murphy, Brad Warren, Brett Warren)
8. "Land of a Million Songs" (Luke Bryan, Jeff Stevens, Jody Stevens)
9. "Like You Say You Do" (Luke Bryan, Michael Carter, Ashley Gorley)
10. "Hooked on It" (Luke Bryan, Dallas Davidson, David Lee Murphy)
11. "She's a Hot One" (Michael Carter, Chase McGill)
12. "Hungover in a Hotel Room" (Rodney Clawson, Chris Tompkins, Josh Kear)
13. "Pick It Up" (Luke Bryan, Rodney Clawson, Matthew Dragstrem)
14. "Driving This Thing" (Rhett Akins, Ben Hayslip, Jody Stevens)
15. "Win Life" (Rodney Clawson, Ross Copperman, Nicolle Galyon)
Luke Bryan's Singles, Ranked
Learn More About Luke Bryan's "Light It Up"

Source:
Luke Bryan's New Album, 'What Makes You Country', Coming in December